In a Nutshell...


Josefina is an internationally published fashion, glamour, portrait and sometimes celebrity photographer/retoucher who splits her time between coasts.

When not behind the camera, you can find Josefina crocheting, editing, contributing to conversation on Clubhouse, singing, walking her dog, or enjoying a nap.
She is currently located on the East Coast in Pennsylvania.

______
Photo Credit: Damien Riggs Productions
Gallery Showcase - FIXATE - Washington, DC | August 2017
"One of my favorite things to do is to listen to people's stories; how they got to where they are, what they have done and seen, and how they view the world around them. In my work I try to capture the very essence of a person - their authenticity, their true self. I believe that everyone has a story to tell."
Josefina In Full:
My love for photography began around the age of seven with a tiny throw away camera. When I turned twelve, I received my first black and white film camera and began exploring the wonders of a darkroom. In the following years I would learn to work with and appreciate Polaroid, analog, and digital cameras. Focusing mainly on nature, at the time, I had several short bursts of exposure through my landscape work thanks to the rise of social media.

At seventeen, I was asked by my school's sports coordinator if I would be interested in shooting events for the various teams. This offer came after a #MeToo incident that sent me spiraling. In an effort to keep me afloat, and finish school, it was suggested that I channel my anger and hurt into something constructive. Those images would become a part of the school's history and appeared in the subsequent yearbooks, school bulletin boards, and even their website. Even with all the positive feedback, I knew that I had to be doing something more - sports photography wasn't it. Following my freshman year of college, I fell in love with work that was created by photographer, Jaime Ibarra. Something about his portraits and the way he was able to capture people in this raw, yet magical, sense of beauty made me want to create. I wanted to do something more. In the past it felt as though my budding photography career was "given to me" as a way to "shut me up" or as "an apology" without really being one, given the time and place. My career path change meant that I would be not only reclaiming my time, but I'd be reclaiming my artistic endeavors for myself. From the ashes of a #MeToo incident rose something beautiful - a true passion for art and the dire need to find the truth of every individual. "It starts with stories," I once heard someone say, "you learn through stories, you are taught beautiful things through stories, through others who have been there before, or who have made it to the other side of their hurdles." Using that knowledge, I set forth to create art that would tell a story, searching for that connection, that spark, that would make people want not only to see, but to know more. Using this newfound passion, I left landscape work in the pursuit of capturing the more complex side of photography - humans.
I wanted to know everything I could, so I spent a ton of time watching tutorials that had been posted online and experimenting in trial versions of Photoshop. In terms of editing, I'm majorly self-taught. I was able to pick up some new tricks by taking courses with Jaime Ibarra, LUCIMA, and Charles Hildreth, but over time, my work has become my own through trial and error. I have also attended a fair number of workshops with these prestigious photographers in Los Angeles, Miami and New York, where I learned a lot more about fashion photography and expression from LUCIMA, glamour/boudoir photography from Alex Manfredini, and fashion posing with Lara Jade. Each workshop I've attended has inspired me to continue creating and to find the beauty in the most unique of situations.

Just shy of eighteen, I successfully launched my brand, Josefina Photography. Since then, I have had the opportunity to collaborate with agency-represented models Kate Compton, Codi Babcock and Theresa Manchester; well-known models Roarie Yum, Miss Mischief, and Alysha Nett; celebrities including Canadian Opera Star Dr. Bonnie Cutsforth-Huber, Actors/Activists Nina Hartley & Buck Angel, MTV Reality Star Tila Tequila, and most recently The Honorable Judge Rosemarie Aquilina, who made worldwide headlines due to her extraordinary handling of a complex and vile #MeToo case. Josefina's work has also been published by The Huffington Post (4x), The Elephant Journal (3x), New York City's Playbill, Tattoo'd Lifestyle Magazine (2x), The Atlas Magazine, Tinsel Tokyo Magazine, Saskatchewan Songs Book, Endless Pools (yes, the company), Ingham County Bar Association's Magazine - Briefs, and has most recently been seen with Voyage Houston LA and on the television network, WBTVN's Sulavon's SheShed.

An all-around creative, I spend my time on photoshoots, creative conceptual development, creative-team collaboration, and aggressively marketing and advertising the artistic name.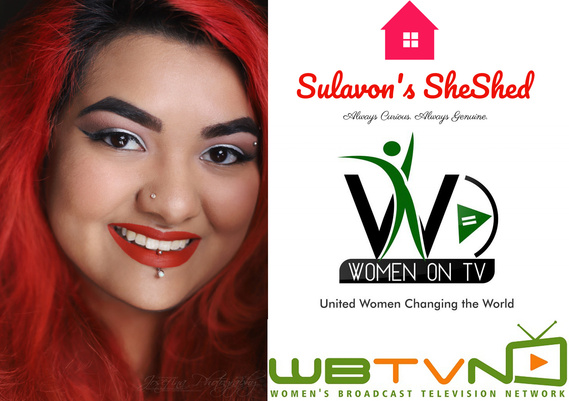 The TV Interview.
Sulavon's SheShed on the Women's Broadcast Television Network.
Here, Josefina talks about what it's been like as a female photographer in a very male-dominated industry, where/how she got her start, who inspires her, what irks her THE MOST about social media, and what it's been like developing a business in this technology-filled era!




The Voyage Houston Interview.

Here, Josefina talks about what it's been like to be a photographer for the past decade, why social media has its cons, and what she thinks "success" means.